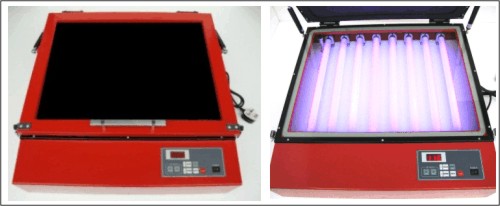 NEW MODEL NOW OUT
(Cream in colour)
The new UV Ultra-Vacuum is now available at an incredibly low price. This unit is great for exposing screens, polymer plates, glass etching stencils, pcb's , Alternative Photography, Solar Plates, Solarplate Etching, Photopolymer Film, Water Washable Plates etc.

The new colour of this unit is Orange - design is identical to that featured in the above video.

Features:
Heavy duty neoprene vacuum blanket

2 x Heavy duty struts for easy lifting of lid

Adjustable vacuum lid clamps

Strong tempered glass surface

Oil-free vacuum pump which is powerful and quieter


Technical details:

Overall dimensions: 700mm (L) x 700mm (W) x 180mm (H)

Maximum exposure area for Plates is: 560 x 440mm

Maximum exposure area for Screen frame size is 540mm x 440mm x 20mm thick (Outside dimensions))

Maximum screen frame size 520x420 Outside dimensions

UV Lamps: 8 x 25W

Timer: Digital

Specifications liable to change without prior notice.

---
The fully automatic AY Vacuum range of exposure units offer the ultimate in contact between the artwork and the substrate. These are essential for fine detail work and also for larger than A4 size when a pressure pad design would not offer an even contact.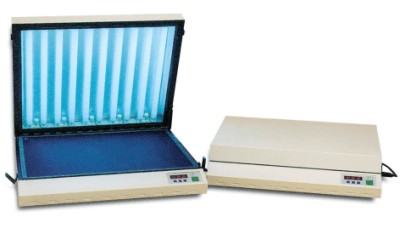 For the ultimate in reproduction definition, a vacuum unit has to be the choice. Unlike the pressure pad units the AY series use a vacuum to ensure the artwork and material to be exposed are held in perfect contact.
When fine tracks are required on a PCB or detailed definition on a graphic reproduction, an AY vacuum unit should be chosen. All the AY units now feature the latest rubber blanket and glass vacuum system for the ultimate exposure resolution.

The time is then set via the touch membrane control panel and the start button pressed. This activates the integral vacuum pump which removes the air from the chamber ensuring perfect contact between artwork and material to be exposed. Only when a vacuum has been achieved will the tubes activate and the exposure commence. When completed the vacuum pump is turned off and a valve automatically releases the vacuum allowing the lid to be raised. All units come complete with an IEC socket and moulded 13 amp plug.
We offer three models in the AY range (with vacuum) which are:- AY315, AY321 and AY360.

Model
Working Area*
Timer
UV Output
Dimensions
Weight
AY315
13" x 14" 330 x 355mm
0 - 999 Seconds
6 x 15W
550 x 485 x 170mm
16.0 kg
AY321
13.8" x 21" 350 x 535mm
0 - 999 Seconds
6 x 20W
(3.5-4.5 mW/cm²)
720 x 580 x 170mm
22.0 kg
AY360
22.6" x 26.8" 575 x 680mm
0 - 999 Seconds
10 x 20W
(3.5-4.5 mW/cm²)
765 x 730 x 178mm
34.0 kg
* vacuum pip is 25mm diagonally in from top left corner of the exposure area.

PLEASE NOTE!

Please click the link below to visit our
new website for Exposure Unit.

The website which you are currently on is now obsolete.
Please click the following link to go to new website:-

www.ultravioletexposureunits.co.uk